$0
For Windows 7, Vista, XP

Flipping Book 3D for Photo
Freeware to make an animated
True 3D

flipbook using photos
Make real effect True 3D flipping digital photo album.
More Templates: Choose from 10+ ready to use templates easily.
Flipping pages with mouse or prev, next button. Add zoom in/out feature to the album.
Activates auto-page flipping within a defined interval, eg for presentations

Change edge and height of album, make a real 3D photo album.
Publish online for mobile devices (iPhone, iPad, Win Mobile ,and Android devices).
Share the flipping book with your friends though Emails, Twitter, Facebook, Google, etc.
Build stunning flippingbook publications form PDF, see PDF to Flipping Book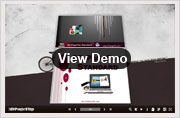 Flash Player 10.0+
Convert your existing OpenOffice documents into high-quality True 3D digital publications. Easy to use. Powerful in publishing...
Flipping Book 3D for Photo is a 100% free digital photo flipbook publisher software program turn your digital photos into online flash photo albums with True 3D page tuner effect. It lets you create realistic, book-like albums with an intuitive interface that is natural, familiar and intuitive.
Flipping Book 3D for Photo free can help you to make a real album like Flash photo album. The user can flip it and add the contents of their own cover and back cover. It is recommended for beginner.
With Flipping Book 3D for Photo, you can take your digital photos, edit them with professional quality tools, add your own comments and messages, organize them into albums, and share your albums with people across town, across the country, and around the world.