$99
For Windows 7, Vista, XP

Flipping Book 3D for Word
Create
True 3D

page flip books from Microsoft Word Document
Create True 3D Flash flipping books from Microsoft Word documents .
Preserve all the contents, images and all the original layout in your Microsoft Word.
Publish and share Word files online, on Mobile devices or CD/DVD; USB device.
Customize reading style, output language, background color/music.

Unlimited

MS Word to flippingbook

conversions

 without paying royalties.
Publish online for mobile devices (iPhone, iPad, Win Mobile ,and Android devices).
Share the flipping book with your friends though Emails, Twitter, Facebook, Google, etc.
Build stunning flippingbook publications form PDF, see PDF to Flipping Book
for Win 32-bit
for Win 64-bit
Buy Now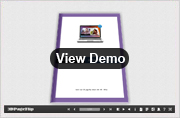 Flash Player 10.0+
Why Use?
Features
Screenshot
How It Works
Designed to create True 3D Flash flipping books from MS Word documents.
Have you ever wished to show your Microsoft Word documents to friends or virtually anyone on the Internet without having them to install special software?
Flipping Book 3D for Word lets you automatically convert your Microsoft Word XP/2002, 2003, 2007 & 2010 documents into a highly compressed Adobe Flash™ format (swf) (flippingbook). Within seconds you have a stylish, interactive and a beautiful looking Flash flipping Book (eBook) publication ready to use. You can have all your images, text and original layout of the word document preserved in the conversion. It becomes easy for you to share these flippingbook file with all your friends as they are comparatively smaller in size, you can share the documents on a webpage or distribute it through CD\DVD.
There are a number of benefits in converting your word documents into a flash flip book. The following ae just a few of then:
•Greater accsessibility : – It does not equires any additional softwares to view these publications. A flash flip book can be viewed in any web browser as all browsers have an inbuilt flash plugin installed. So the accessibility is maximised.
•Distibution : – All your flash flip books can be easily distributed to all your friends and people in your network. Flipping Book 3D for Word provides you with the facility of sharing all your flash publications on all major social networking websites like Blogger, Twitter, Facebook, My Space etc.
•Embedding : – All the flash publications at Flipping Book 3D for Word can be viewed not onliy as a standalone document ina seperate window but you can also embedd them into the web[ages of your own websites. The process is very simple and you just need to copy and paste the iframe at the desired web page location
•Free Pdf file format : – You are also provided with the free pdf file downlad of your flash files as a bonus feature. So while converting your word documents to flash flip books you also get a pdf file of your word document..
•Compatibility : – The Flash publications can be viewed in any web browser as all the browsers already have flash plug-ins installed. So these publications are compatible with any type of a browser.
•Secured content : – These flash files cannot be editted or copied by any one, making your content secured from copying. In addition to it you can also disable the download or print options in the viewer if you dont want anyone to have your content in hard copy.
•E-mail ready : – Flipping Book 3D for Word provides you with the facility of sending your flash publication to your friends through e-mails directly from the viewer panel along with your personalized message or you can just provide a link to the publication in your e-mails so that your friends can view your publications.
•Interactive features : – You can make your static word files into interactive flash files by adding audio – video to your pages or by automated page flipping. It would really enhance the experience of the people reading your flash content.

True 3D Reading Experience
The pages turn with the option of rolling the entire book in three dimensions, and this induces a feeling in users as if they are holding an actual book in their hands. Use realistic 3D page flip magazines effect to promote your book, boost your book's sales or to demonstrate your book in realistic, visual 3D animation!
Provide 3D Interactive experience for your readers (Easy to Use)
No flash knowledge and programming skills needed, Just 2 clicks away from making your MS Word to a impressive flipping book! One click to publish your flipping book to iPad & mobile devices.
Flipping Book 3D for Word includes a lot of features (40+) that goes unmatched within the industry. Our standard features provide our users the utmost functionalities at no additional cost.
iPhone, iPad & Android Devices Supported
Making publications more flexible and run on more devices like iPhone, iPad, and Android devices. A lot of platforms are now supported by Flipping Book 3D for Word. Enjoy a real 3D turn page effect and mobility on-the-go and share it with the rest of the mobile world. Only a browser is required in a mobile device to get it work. It can be a very convenient way to turn everybody on your new publications.
SEO Friendly: All Text is Indexed By Search Engines
Help optimizing your website for search engines; Achieve top rankings in search engines & attract more visitors to your website.
Flipping Book 3D for Word include SEO feature, the output flip book will be downloadable and can be placed on your OWN website and any visitor that comes through Google will end up on YOUR website. The text contents of FlipBook publications are available for search engines such as Google. This will multiply the coverage of your website.  The search data will be generated automatically.
We also can optimise your Flip Book based on a list of targeted keywords that you supply. This enables it to be more easily found on the internet through Google keyword search, substantially extending market reach.

Support Google Analytics
In combination with Google Analytics data of the reader of FlipBooks can be generated. Insert your own tracking code from your standard provider (e.g. Google Analytics) for visits of your online publication, Analyze, monitor traffic in a new way, improve ads and get more detailed information for better planning.
Social Share and Easy Get Sharing Data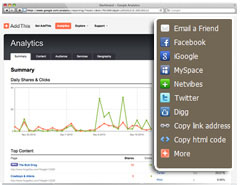 You can embed your flipping book in various social networks, Add social media platforms like Twitter, FaceBook and LinkedIn to your online Flash Flip Book, encouraging deeper engagement across your social networks.. The users will be able to access your content without having to follow external links. you can easily share PDF Flip Book via email, insert to Facebook, Myspace or your website!
Free FlippingBook Templates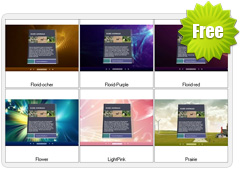 Flipping Book 3D for Word provides pre-designed templates and themes online for you to use. You can make changes to any template or theme based on your book style or your design requirements. Change settings such as the 3D flippingbook navigation menu color, customized color of images or backgrounds; Insert your logo / image;  enable or disable icons and online functions, etc... 
Full Customization Settings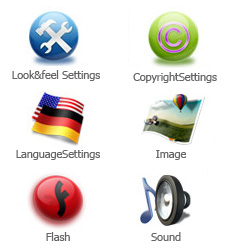 With using Flipping Book 3D for Word, you can customize book title, logo, background, flip sounds and much more – almost everything can be customized easily:
Language Settings: Define your language for 3D FlippingBook. Define Text and tool tips language in the navigation menu
Customize Company Brand Identity  : Customize Navigation menu / Icons / Background / Video Player ; Insert your logo / image; Define book info, like author, website, email, instruction, and even HTML keywords, description and other metadata.
Toolbar Button Settings: Choose to enable or disable icons and online functions in the navigation menu like Zoomin, AutoPlay, Thumbnail, Background Sound, Print single page - PDF download - Send to a Friend - Page Flip sound - Search engine etc.
Add a variety of features including background color, zooming, and other effects so you can have different reading options, giving your book a nice touch
Mac and Windows versions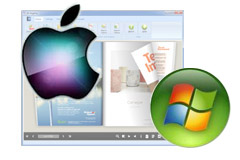 Flipping Book 3D for Word is available for both Windows and Mac platforms, both have the full features available and allow you to create your digital publications in minutes.
Deliver FlipBook Everywhere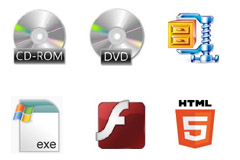 The output flash flipping book can be exported with following options:

Publish flipping book as stand-alone EXE for CD delivery
Create online flipping book for websites as Flash (SWF)
Create offline flipping book publications for CD/DVD
Produce ZIP Package and email to your customers
Publish online for mobile devices (iPhone, iPad, and Android devices).
Technical specifications - flexibility and 24 / 7 / 365 days e-mail support
1. Optimized FlippingBook for 1024 x 768 resolution, your readers will get the best experience and avoid scrolling to see complete layout ;
2. Browser compatibility: Chrome • NetScape • Safari • Firefox • Explorer • Mozilla • Chrome • AOL
3. Unlimited online views and broadband.
4. 24 / 7 / 365 days e-mail support and 12 hours guaranteed replies for paying accounts.
5. Publish up to 1500 pages in order to avoid limits with your readers local computers and browsers
One-time fee, unlimited conversion

Once you have purchased the software, you can use the program to convert an unlimited number of MS Word document to any number of page-flipping eBooks. No subscription fee, no conversion fee, not limited to a single website.
Free upgrade for ever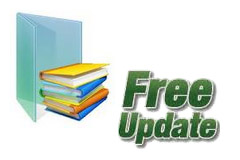 Upgrades are always free. Once you have purchased the software, you can use it forever. We reserve the right to raise price for later versions, but you don't need to pay one cent for upgrading.
30 Day Money Back Guarantee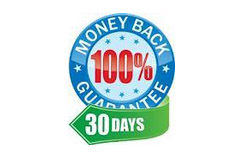 We believe our software is exceptional value and work very hard to make sure this remains true. If you are dissatisfied with our service for any reason, you will receive a full refund. Just request a refund by emailing us at support@flashflipbook3d.com.
Product Features
1.            Convert doc,docx,docm format document files to flippingbook with preserving the original text, image, layout etc
2.            Provide an enhanced, entertaining and active True 3D reading experience.
3.            Support Flash 6 format compression to compress the output file size.
4.            Precise control the generated output flippingbook quality with more parameters settings.
5.            Apply a 20+ pre-designed template.
6.            Flip book background music, volume and on / off ; Integrated, turn page click sound, upload your own sound (MP3) 
7.            Export and save settings or projects for future use.
8.            Define book Title & Caption.
9.            Enable Auto Flip with setting Flip Interval.
10.            Set Flash buttons display language.
11.            Enable or disable icons and online functions in the navigation menu.
12.            Different kinds of render engine to choose, to avoid distortion for some special PDF files.
13.            Set page thickness and make book auto scale in different Flash containers.
14.          Input Presenter information such as name, website address, Email and details info to show in About Window.
15.          Choose color for Navigation Menu Tool Bar. Choose customized Background color.
16.          Insert your logo / image at the top of the navigation menu (visible all times for your readers).
17.          Pre-set tilt angle while opening the eBook.
18.          Set background with pure/gradient color or image directly.
19.          SEO and Google Analytics Integrated; Insert title and metatags descriptions and meta keywords.
20.          Enable readers to sharing via Facebook, Twitter, iGoogle, etc, Sharing Analytics supported.
21.          Output to different formats: HTML, ZIP, EXE, Mobile Version and Burn to CD.
•              HTML allows you to upload to a website to be viewed online (with title, keywords and other metadata defined).
•              EXE (with setting title, icon and open window size) and Zip allow you to send to your user by email to be viewed on their computer.
•              Mobile version is to output HTML flipbook which can be viewed on mobile devices via Browsers (support slide single pages on mobiles).
•              Burn to CD allows you to burn to disk so that you can send your user physical media for viewing on their computer.
22.          Full off-line publication: the publication can be easily downloaded to an off-line version and burned to a CD. This finished CD can be taken with you to trade shows demonstrating your e-Catalog with videos in place on a laptop.

Output 3D flash magazines Features
With the 3D flash flipping book you have created, your user will be able to:
Realistic 3D page-flipping effect to read ebooks.
Click navigational buttons to turn pages.
Turn Pages using your keyboard (arrows) or curser .
Thumbnails / index of all pages in your publication.
User friendly navigation, easy to navigate for all generations - ease to use.
Double-click or click zoom in/out button to zoom in or zoom out pages in multi-level.
Manually define Tilt Angle or wheel mouse to change angle to view eBook pages.
View pages thumbnails to go to interested page quickly.
Flip pages automatically.
Turn page-turning sound on/off.
View eBook detail information.
Share eBook URL via Facebook, Twitter, Digg, etc. Easy to contact you by e-mail link inside your online publication.
Add bookmark on pages as notes for later reading.
Print your document directly from within the e-book; Print, single page, or all pages (PDF).
View page-flipping eBook in full screen. Maximize browser window.
Auto scale function, browser window.
Open in the Browser to a specific page by adding a page index to your URL. E.G.www.yourdomain.com/index.html?p=4.
Here are some screenshots of version 2.0 below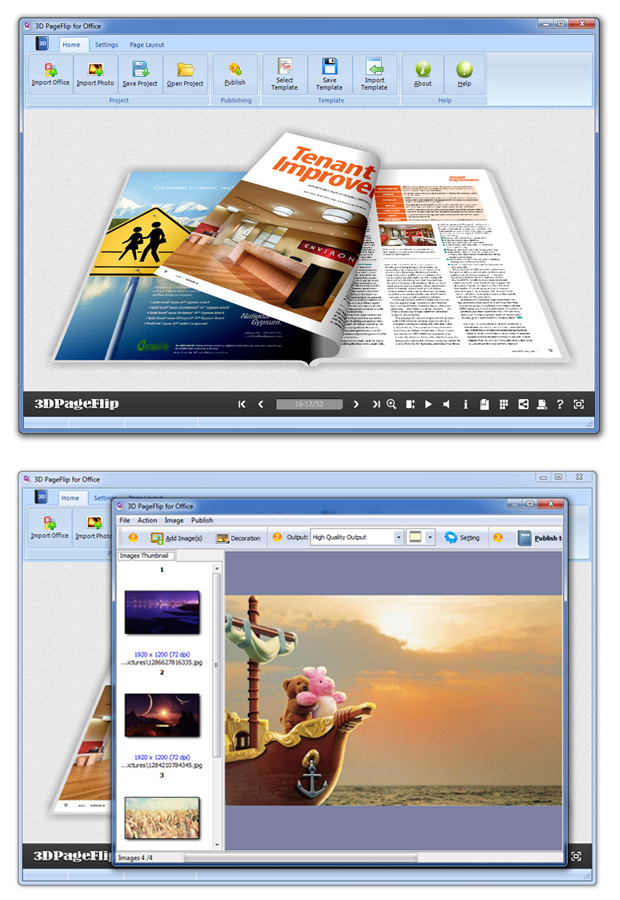 Three steps to create 3D flash flip eBooks from PDF