$0
For Windows 7, Vista, XP

Free Flipping Book 3D Maker
Freeware to Build stunning
Trun 3D

flippingbook publications
Create High Quality and realistic True 3D Flipping Book from doc.
Insert your company logo or a photo on flippingbook .
Run locally, on any type of web server, on Mobile devices or CD/DVD; USB device.
Support External banner ads in the flippingbook.

Audio function makes it fun in the flippingbook.
Publish online for mobile devices (iPhone, iPad, Win Mobile ,and Android devices).
Share the flipping book with your friends though Emails, Twitter, Facebook, Google, etc.
Build stunning flippingbook publications form PDF, see PDF to Flipping Book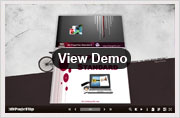 Flash Player 10.0+
Convert your traditional files to interactive True 3D flip book edition
Free Flipping Book 3D Maker is a 100% freeware for creating flash flipping pages as ebooks, making your digital ebooks looks like a real flipping book with turning effects. Your customers will be attracted by your flash flipping brochures, catalogues, magazines, ebooks, album, etc. Flip book maker supports Windows 7, Vista, and XP.
With Free Flipping Book 3D Maker, you won`t need any flash programming skills, only import your text book, and then choose the theme templates from a variety of preset Flip Book Maker (include birthday template, wedding template, christmas template, kid template, holiday template), the final publish.
Free Flipping Book 3D Maker give life to a publication provides more interested readers for your online informations and the readers can flip though pages in the virtual publication in 3D turning page animation.
Just as if they had a real copy of it in front of them, except that this time, the publication is alive and interactive. Readers can flip through the pages on the monitor.