Online Brochure Maker for Boosting Digital Brochure Publication and Distribution
Printing brochure publication and distribution have been out of date with the development of internet and technology. More and more people would like to read digital brochures to get the latest information on their mobile devices when they are waiting in a bus stop, subway station and airport. It is both a challenge and an opportunity for the digital brochure publishers. Why not take a look at the freeware online brochure maker which can bring your business to a next level in that it can not only create impressive and interactive flip-paging digital brochures but also distribute them to a wider audience. .
The foolproof but versatile online brochure maker FlipHTML5 offers you an opportunity to create your own responsive and interactive digital brochure. You can elaborate your flip-paging digital brochures' layout and contents with different templates, themes and multimedia. Besides that, these amazing digital brochures can be distributed in multiple ways to reach more audiences and finally boost the publications. .
Email Target Readers
The easiest way is to publish your flip digital brochures in ZIP format and email the ZIP file directly to your target readers, which can help you to retain the loyal customers and attract the potential customers.
Social Media Sharing
Secondly, you can share your flip digital brochure via social media including the Facebook, Google+, LinkedIn, Twitter and so on. Whenever your readers find your publications are useful for them, they can easily share with their beloved one, families and friends with just one click.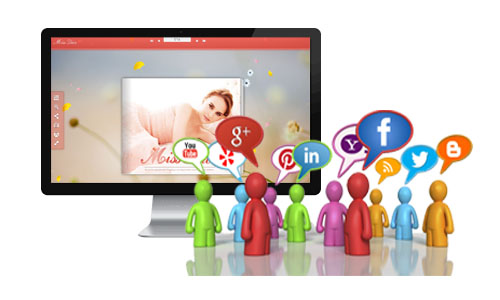 Readable on PC, Mobile Devices and Tablet
If you desire to make your flip digital brochure readable on different devices, FlipHTML5 can totally meet your needs. Because it enables you to publish your flip brochures in different formats including the EXE, HTML, ZIP, To the FTP and the plugins( WordPress plugin, Joomla module, Drupal module). You can read them anytime anywhere either online or offline
Example created by online brochure maker: http://static.fliphtml5.com/web/demo/miss%20dior/index.html .