For Windows 7, Vista, XP
Flipbook Brochures Creator
Flipbook maker to create flash flipping book from Adobe PDF!
Flipbook Brochures Creator, the professional page turning book maker software to convert PDF to flash flipbook with stunning page flipping effect. With Flipbook Brochures Creator, you can create Flash Christmas brochure, Valentine Card, Product brochure, menu album and so on with easy. Once you have created flipbook, you can your readers can share with friends, relatives or clients on social networking sites.
Free TrialBuy Now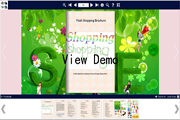 Flash Player 10.0+
Are you an author who wants to create flipbook for share online? Are you sales director who tend to send product brochure with stunning and unique effect to your customers? Are you a teacher who would like to show your lesson course to student with wonderful present? Luck you are here, Flipbook Brochures Creator would make different for your work, it would vivid your Adobe PDF documents by converting it to a dreamy flipbook with page turning effects and keep it clear content for original file!
If you are looking for software that makes flash publication present different, Flipbook Brochures Creator Software will be a good choice! It is powerful, simple-to-use and has a user-friendly interface. The software can be divided into three parts. The tool bar, the preview interface and design settings part. This three parts work together to maximize the quality of the final effects which will make your flipping book more realistic and more functional.
With an easy to use operation interface, you can make a flash flip book in a just few mouse clicks! Even if you are a new user, you can use it expertly without any special learning. With multiple professional functions, you can create a flip book with different kinds of features which makes it unique out of others.