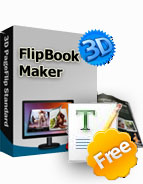 $0
For Windows 7, Vista, XP

Free e-Magazine Creator 3D
Freeware to create Unlimited Flash Flipbooks from Text and images
Create High Quality stunning

true 3D

flash flip books from text book.
Put your own logo on the flippingbook loading screen.
Attract visitors to your virtual bookstore - let them eye your digital editions before they buy them.
Improve your website performance and boost incoming traffic.
Get your publications on the fastest growing mobile platform or CD/DVD; USB device.
Digital magazine with a custom background including advertising banners.


Read on Apple and Android Devices.
Make unlimited page flip books on your computer.

Integrate access to your favourite social media platforms like Twitter, FaceBook and LinkedIn to your online Flash Flip Book.
Be ecological. By reducing or eliminating paper publishing and distribution, you can significantly lower your business costs.
Build stunning flippingbook publications form PDF, see PDF to Flipping Book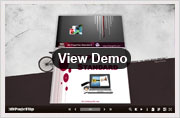 Flash Player 10.0+
Embrace the digital age by editing your interactive Book with an application on your iPhone, iPad or smartphone
Free e-Magazine Creator 3D is an flipping book publishing software that allows you to convert text documents into Flash page flip digital publications. It is a publishing solution to create interactive page-turning publications: FlipBooks. It's the ideal solution for those who wish to embed a book, magazine, catalog, newspaper, portfolio or any other kind of document into a website or blog.
The flippingbook conversion can be done in a few steps with Free e-Magazine Creator 3D. With a simple user interface you can create a highquality digital edition out of print data.
Once created, you can embed your flipping book collection, download them or share them on social networking websites such as Facebook.
Free e-Magazine Creator 3D is the perfect tool for all claims – equally wether it is an ePaper, an eBrochure or an eCatalog.
Links, multimedia video or audio content and animations are also supported, such as design modifications from company specifications.