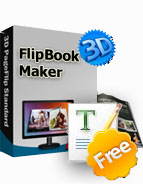 $0
For Windows 7, Vista, XP

Free Flip Creator 3D
Freeware to create Unlimited Flash Flipbooks from Text and images
Create High Quality stunning

true 3D

flash flip books from text book .
Insert your banners or company logo or a image on flip book.
Attract visitors to your virtual bookstore - let them eye your digital editions before they buy them
Improve your website performance and boost incoming traffic.
Get your publications on the fastest growing mobile platform or CD/DVD; USB device.
Digital magazine with a custom background including advertising banners


Publish online for mobile devices (iPhone, iPad, Win Mobile ,and Android devices).

Share the flipping book with your friends though Emails, Twitter, Facebook, Google, etc.
Be ecological. By reducing or eliminating paper publishing and distribution, you can significantly lower your business costs.
Build stunning flippingbook publications form PDF, see PDF to Flipping Book
Flash Player 10.0+
Create an interactive flash e-catalog from Text Book for both online & offline use
Free Flip Creator 3D if a 100% freeware to converts Text Book to 3D flipping books, digital magazines, brochures and interactive catalogs for both online and offline use. It can preserve your files as high-quality vector SWF files. You can take fully control over the conversion process and output setting, whether change the flipping style, or insert user information.
Free Flip Creator 3D make a flash file from your text book files, but Free Flip Creator 3D keep your page setting and we preserve texts to have a better zoom reading.
Free Flip Creator 3D allows you to create a digital document format, flash, all types of publications, magazines, brochures, catalogs, press kits.
Key Features:
1.Quick start-Converting Text Book to page flip magazine is as simple as clicking buttons. You'll get the conversion result in minutes;
2. Users can remove watermark on pages and add your logo;
3. Easy customize-Customize the interface with your background image or add/remove buttons on navigation bar;
4. Compatibility-No require additional software to run. As long as the browser displays flash files, users can view the results;
5. Completely control-Whether keep the flipbook locally, or share online, you have the control of all converted Flash flipping books;