Do you want to hide some button on bottom tool bar?
As you see, the logo and other function icons are listed on tool bar at bottom. Most of time, definitely you do not want some icons show up result in tending to cancel them to make a brief and simple 3D flip-turning book that can meet all your requirements. If not so familiar with PDF to Flipping Book 3D, after learn this trial, you can setup all icons with ease. Let's go ahead!

Step1: Launch PDF to Flipping Book 3D, click the third tab of Page Layout.
Step2: go down the menu, and then find the icon of Buttons, and then click it.
Step3: All the buttons that control all aspects of 3D book show up, and then you can edit them by checking or unchecking in order to show or hide.
Step4: Click OK and then don't forget to click Apply Change.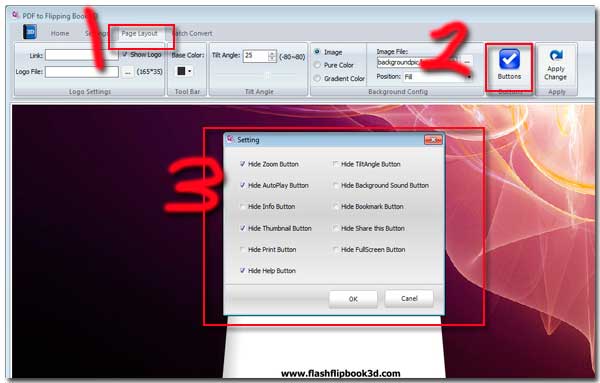 PDF to Flipping Book 3D download
PDF to Flipping Book 3D for MAC download