How to hide the print function at the bottom of a 3D book?
You couldn't feel well if the readers who read your 3D page flip book and print your valuable content. To avoid this situation, you can set an obstacle to block others print in order to reach the purpose of content protection.  Don't worry you would lose much audience if you stop them with print limitation. Actually, it can raise the number of people who contact you by email which will produce mutual benefit for each other. Compare with your knowledge treasure abuse, you cannot do better than protect them and collect more useful suggestions or feedbacks.

Step1: Start PDF to Flipping Book 3D, mouse over to the third tab named Page Layout.
Step2: Click Button situated the menu stern.
Step3: Uncheck print button to make it hidden at the bottom of the 3D flip panel.
Step4: click Apply Change.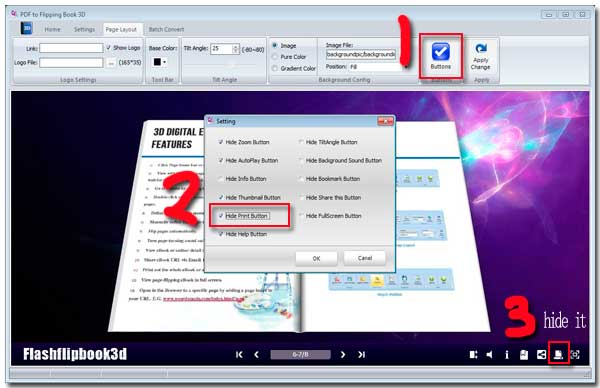 It's magic! The print button at the down-bottom disappears.
PDF to Flipping Book 3D download
PDF to Flipping Book 3D for MAC download