How to setup gradient background colors and angle?
You would prefer a simple and brief background for the 3D flipping book. The overstated decoration might induce hot and bothered. To be honest, we tend to find the essence by omitting that specious pattern although always it makes us relax. Actually, we setup different background for different occasions will make big sense on the result you are about to expect. Now we return to us Gradient topic. It can fit too many occasions for example formal magazine, book publishing, catalog, brochure distributing, etc. To make your book more vivid, you also try to change the gradient angle at any direction.

Step1: Start PDF to Flipping Book 3D, select the third tab Page Layout.
Step2: Move your eyes horizontally right you can find the settings area Background Config.
Step3: Check the last Gradient Color and then on the after area select Start and End Color.
Step4: Adjust a suitable Gradient Color for out side colors.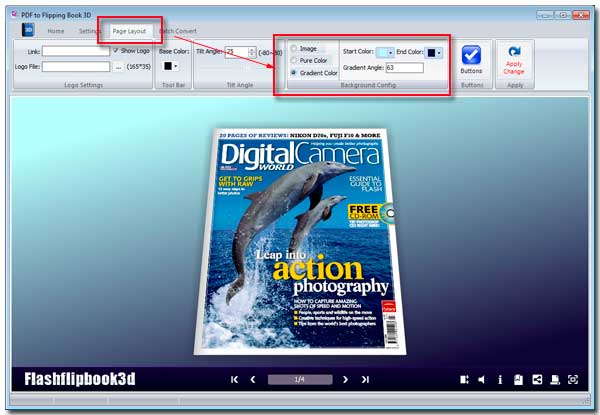 PDF to Flipping Book 3D download
PDF to Flipping Book 3D for MAC download