Can we read 3D flipbook on Windows, Mac, IOS (iPhone and iPad), Android and Windows phone
What's the outcome look like that produced by PDF to Flipping Book 3D (Pro)? It is said that we can read the 3D book on all the platforms we have been familiar with in daily life. It seems that all kinds of digital handheld devices fill every corner of the world. We are transferring the emphasis of our life from the old style to better suit a new information age. Computer with Window or Mac operation system, iPhone, iPad, Android phone or tablet, even Windows phone, in fact, we can see them almost everywhere. People access to the information they want quickly with the help of those digital devices. People become more and more reliant on those fast devices. Actually, we gain much benefit from them. Besides, they are cheaper and cheaper. Even you are poor, you can easily afford buying a handheld smart phone.

The rise of e-commerce seems closely associated with the overwhelming mobile devices. As a merchant, retailer, or publisher, it is very necessary to keep the pace with times and exploit the market. You must need the most effective means of advertising your products. Making manuals is the traditional way which almost all the business men turn to. Although it is old tactics, it proofs clearly quite effective. PDF to Flipping Book 3D (Pro) is somehow kind of the tool build flipping manuals, magazine, book, journal, annual report, catalogue any type of digital publications. It reaches to all the platforms reassuring your doubts. You needn't rack brain to think how to access the all the users. Next, let's learn how it realizes to run on multiple platforms.  

I What Output format of the 3D Flipbook?

1 HTML (publish for web) (The most common usage)
1> Also make mobile version
2> Also make Epub
3> Burn to CD
I guess the FAQs below would help you understand better.
How to publish the 3D book on my host?
How to embed the page-turning 3D book in my existed webpage?
How to publish the flipbook without my own website?

2 ZIP (mainly for emailing, the precondition: you have to install the ZIP/RAR software in your computer)

This type only compress the HTML output as ZIP/RAR files mainly for sending email, sometime it is used for burning to CD.

3 EXE (runs on Windows OS computer without assistant software)

We advise you select this type when decide to burn to CD to distribute.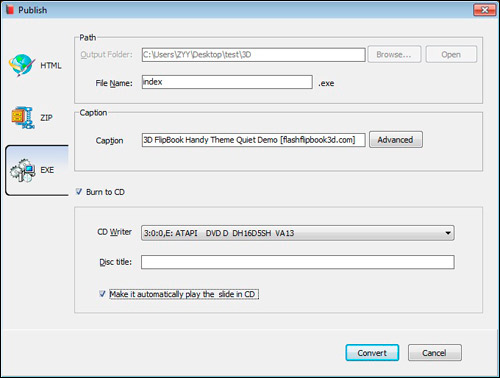 II HTML format of 3d flipping book for Window PK MAC                     

Actually, both Windows and Mac accept HTML format. Don't think different on Window and Mac. Once you upload the HTML flipping 3D book online, you can visit it on the browsers on either Windows or Mac. That is to say, it is nothing to do with which Mac or Windows version of PDF to Flipping Book 3D (Pro) you build the HTML flip3d book. People can reach it through browsers, as long as it is the HTML output type and you publish it online or send it to another computer. Both Windows and Mac users can read the HTML flipbook after you have all the related files uploaded online.
If you compress the HTML type of 3D flipbook as ZIP package and send it out to a Mac user, don't worry about he/she couldn't read it. At Mac end, he/she should unzip it and double click on the HTML file to preview on his/her browser offline.
You can open this demo http://www.flashflipbook3d.com/themes/demo/Cobweb/index.html on Mac or Windows or Mobile devices.

III 3D Flipbook displays without Flash Player

1 Need Flash Player

Almost all the people (Windows and Mac Operation System users) have installed or are installing flash player in the browsers. You know, to watch online video for example YouTube, we have to install flash player in their browsers otherwise we never access to. Even those mobile/handheld devices (iPhone, iPad, Android, Windows Phone) cannot avoid flash player if we want them play online video like it display on computer.
The HTML output type of flipping 3D book can be visited by the browsers installed flash player on the devices with different operation systems installed in.

Demo: http://www.flashflipbook3d.com/themes/demo/Quiet/index.html.
Please visit it on any devices with flash player installed.
2 No need Flash Player

You are about to output the flipbook clicking on the button of Convert to 3D Book. In the pop-up box, you can see the checkbox of Also Make Mobile Version. It gives us a solution for iPad, iPhone and some other devices (early Android devices) which do not support flash player. After check the mobile version, these handheld devices can visit the 3D book. We develop mobile version with the technology of HTML5, so any browser support HTML5 can visit it. If your phone or tablet just not support flash player, don't worry, they also can visit the flipbook.
Demo: http://www.flashflipbook3d.com/themes/demo/Quiet/mobile/index.html.
Please visit it on iPhone, iPad and any devices with no flash player.
Conclusion: At this time of writing, we found the flip3d book we created with PDF to Flipping Book 3D (Pro)/(for Mac) can be reached by almost all the devices including Windows, Mac, IOS, Android and Windows Phone. We do not have to worry about there are the clients couldn't see your 3D books. If you have further questions pertaining to operating this software, please don't hesitate to contact, long for your letter. Support Team: support@flashflipbook3d.com.